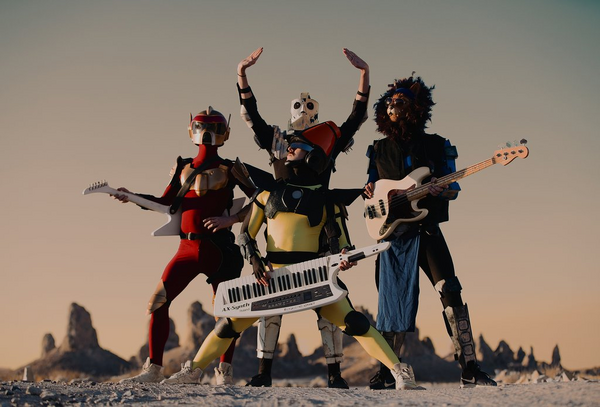 TWRP, formerly Tupper Ware Remix Party, is the 80s-inspired synth rock/electro funk group currently consisting of Doctor Sung, Lord Phobos, Havve Hogan, and Commander Meouch. They first contributed to Under the Covers as Ninja Sex Party's backup band and have remained as members since, also joining Starbomb. NSP have collaborated with TWRP on their music several times, and other artists have contributed to their albums too. The band's past lineup has included Atomicawk Startrotter, Bombustron, and Stone LaChismo.
TWRP have dissociated from most of their early material and prefer for fans to instead listen to The Device onwards.
None of the band members' true identities are publicly known.
Discography
[
]
Studio albums
[
]
Poised to Dominate (2010)
Together Through Time (2018)
Return to Wherever (2019)
Over the Top (2020)
EPs
[
]
Sex is a Machine That Likes to Dance (2007)
The Device (2012)
2nite (2015)
Believe in Your Dreams (2015)
Guardian of the Zone (2016)
Ladyworld (2017)
Singles
[
]
LazerHorse (2011)
Only the Best (2020)
Need Each Other (2020)
Compilation albums
[
]
Omnibus (2017)
Welcome to Tupper Ware Remix Party (2018)
Lil' Shiny Tunes Vol. 1 (2021)
As backing group
[
]
Songs featuring Ninja Sex Party
[
]
Starlight Brigade (feat. Dan Avidan)
Black Swan (feat. Dan Avidan)