Under the Covers, Vol. III is the 7th album by Ninja Sex Party. In May of 2018, it was announced on Dan Avidan's Instagram. It is the 3rd and (currently) latest Under the Covers album.
TWRP returned as the band's backing group for the fourth time.
Various Social Media accounts confirmed the presale begins on November 1st and the official release date as November 15, 2019.
According to Brian Wecht, the rumors circulating about a supposed 'confirmed' tracklist in the months leading up to the album's release were false[1]. In September 2019, a Suspiciously-Titled Spoofy Playlist was made by the band which appeared to tease the official tracklist (barring many tracks on the album which were thought to be a joke). At the beginning of October, the band released the official tracklist which corroborated many of the hypothesized tracks on the Suspiciously-Titled Spoofy Playlist. Later that same month the album art was teased.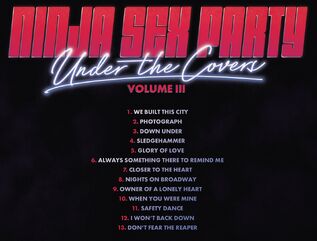 Several tracks from the album have previously been heard live: Down Under was played at many shows during their Going Down Under tour and We Built This City was played in Chicago for their 10th Anniversary Show.
Also worthy of note, the Suspiciously-Titled Spoofy Playlist jokes (supposedly) that the band was planning to cover Baby Shark on this album as well; but it was performed live by The Kraken in Chicago for their 10th Anniversary Show.
Track Listing
[
]
Cut tracks
[
]
Personnel
[
]
Ninja Sex Party
Production
Jim Roach - production and engineering
Mario Ramirez - engineering
Thom Flowers - mixing
Randy Merrill - mastering
Tucker Prescott - photos
Lazerhorse - album design
Additional Musicians
Tupper Ware Remix Party - backup band (all tracks except "The Safety Dance")
Super Guitar Bros - acoustic guitars on "(Don't Fear) The Reaper"
Jeff Driskill - saxophone on "Sledgehammer"
Rashawn Ross - trumpet on "Sledgehammer"
Garrett Smith - trombone on "Sledgehammer"
Dallas Kruse - string arrangements on "Don't Fear the Reaper" and "Glory of Love"
The Era Queens - backing vocals on "Sledgehammer"
Jim Roach - additional guitars and synths
References
[
]